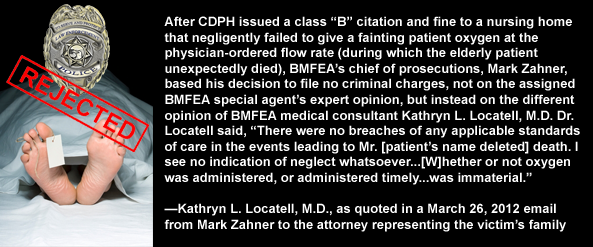 AG Kamala Harris offers take-it-or-leave-it plea bargain to Sacramento elder caregiver charged with elder abuse, manslaughter
The Sacramento Bee reported last week that Attorney General Kamala D. Harris' California Department of Justice had offered a plea deal to a Sacramento elder caregiver who has been in custody at the Sacramento County Jail since last month, facing felony elder abuse and involuntary manslaughter charges stemming from the death last year of an 88-year-old resident from the defendant's elder care home.
In the Sacramento Bee's March 15, 2013 "Plea Deal Offered in Elder-Care Case," Marjie Lundstrom reported that Deputy Attorney General Steven Muni, a veteran prosecutor from DOJ's Bureau of Medi-Cal Fraud and Elder Abuse in Sacramento, had offered defendant Silvia Cata, 52, a one-time-only plea deal that expires at Cata's next court date on March 28, 2013. "Deputy Attorney General Steven Muni warned Griffin [Johnny L. Griffin III, Cata's attorney,] and Cata, who is still in custody, that if a deal isn't struck at the next court date, the offer would 'never ever be renewed,'" according to the March 15 article.
For more on the death of 88-year-old Georgia Holzmeister and Kamala Harris' elder abuse "crackdown" on non-wealthy, vulnerable small-fries, including Silvia Cata, see: