Calif. AG's Elder Abuse Prosecutors Overlooked Sun Healthcare Nursing Home Deaths, Says Victim's Daughter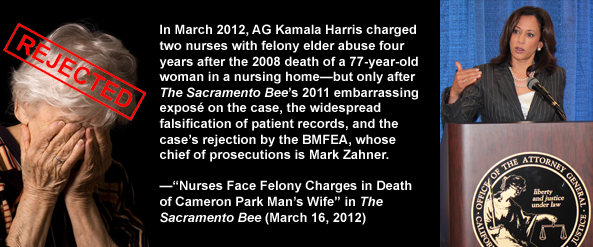 Calif. Dept. of Justice's Bureau of Medi-Cal Fraud and Elder Abuse failed to prosecute Sun Healthcare nursing home deaths, says victim's daughter
In May 2003, numerous family members of patients in a Sun Healthcare nursing home, Sunbridge, in Newport Beach, California, and I contacted the California Department of Justice's (DOJ's) Bureau of Medi-Cal Fraud and Elder Abuse (BMFEA) to complain that Sun had violated its 2001 California state injunction with both understaffing and broken equipment that was killing patients. [See May 28, 2003 complaint letter to Deputy Attorney General Claude W. Vanderwold in the DOJ's BMFEA.] Patient Richard Laga died of gangrene in December 2003 after begging for a wound care nurse in June and July to no avail. Patient Betty Harness died of fecal impaction in October 2003 after staff neglected to track her bowel movements. A man in room 2-B in October 2003 died after, not only one, but two suction machines malfunctioned. Stella Carter died in 2002 when "stat" orders from her physician weren't carried out by the nurse in charge, as witnessed by Dolores Otting, who testified in the Carter family wrongful death lawsuit against Sun. And my mother, Evelyn Calvert, died from lack of ventilation from the broken heating, ventilation, and air conditioning (HVAC) system, which caused her never to recover from recurring pneumonia, and from strokes caused by broken blood pressure cuffs.
[See June 26, 2006 medical review and declaration regarding Evelyn Calvert's death by Scott Stoney, M.D., the former medical director of Sunbridge Care and Rehabilitation in Newport Beach. The Sunbridge facility is now called Newport Nursing and Rehabilitation Center and is operated by Generations Healthcare.]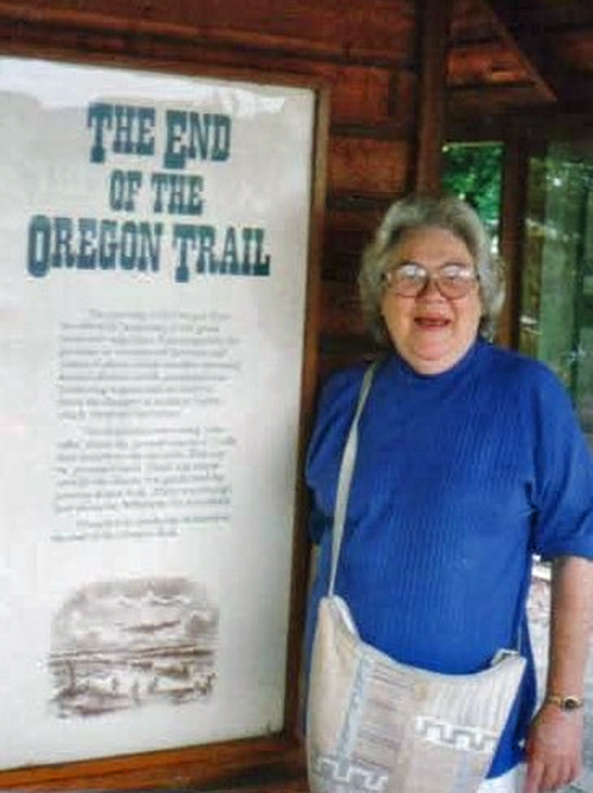 More importantly, the DOJ's BMFEA settled with Sun Healthcare just months before my lawsuit went to court in September 2005 for $2.5 million for violating the injunction in its other California facilities, ignoring these facts which were cited and known by the Department of Health's head, Jackie Lincer.
I sued Sun Healthcare in 2005 for the wrongful death of my mother and was fooled into signing off my rights for her death by my then attorney, the late Daniel Leipold, who also threatened me in mediation for the CEO of Sun, Richard K.  Matros. Sun admitted in that mediation that they understaffed most every day my mother was in their facility. Mr. Leipold also failed to obtain the testimony of the administrator who knew about the stroke they caused in October 2003, Gail Cosner.
I sued Mr. Leipold for his malpractice and won that case in 2008. Sun merged both in 2005 and again in 2008 with large conglomerates in Oklahoma and on the East Coast. Sun had serious lawsuits in Oklahoma and Kentucky, causing one jury in Kentucky to award $42 million for a dehydration death. Sun never gave that man a glass of water in nine days of living there.
In Oklahoma, a news reporter contacted me asking if I really believed Rick Matros, Sun's CEO, had "killed my mother" in retaliation, as the nursing home's medical director, Scott Stoney, M.D., had said. I replied, "ABSOLUTELY." She told me she advised patients to leave that Sun facility in Oklahoma and not look back.
I uncovered in 2010 that documents (field reports condemning the HVAC system and demanding its immediate replacement) generated by California's Office of Statewide Health Planning and Development (OSHPD), which oversees equipment such as HVAC systems, were purged from their files. I had kept my copies and shared with them the fact their employee Chuck DeCapite had demanded the HVAC system be replaced ASAP in mid-2003 yet never was. [See June 4 and August 12, 2003 OSHPD reports regarding Sunbridge Care and Rehabilitation's HVAC system.]
Why did the California's Department of Justice refuse to consider Sun's violation of its injunction that killed my mother when settling with Sun Healthcare in September 2005? I knew five patients died 2002–2003 from the neglect and direct fault of Sun Healthcare Group, Inc., at Sunbridge Newport located at 1555 Superior Avenue in Newport Beach, CA 92662. CORRUPTION.
[Editor's note: The current chief prosecutor for California Attorney General Kamala Harris' Bureau of Medi-Cal Fraud and Elder Abuse, Mark Zahner, Esq., has been BMFEA's chief prosecutor since at least 2003.]
The nursing home's director of nursing, Elizabeth Van Dyke, stated, when Betty Harness was returned from Hoag Hospital with the determination she was dying from fecal impaction and had two weeks to live, "Well we killed that one. Tomorrow every patient who cannot speak will get milk of magnesia." The medical director, Dr. Stoney, overheard Ms. Van Dyke's comment and demanded that his patients not receive milk of magnesia without his order.
The Department of Health issued a citation for the death of the man in October in room 2-B from equipment failure, yet the BMFEA ignored this in their settlement. The Department of Health also issued a citation for Richard Laga's death from gangrene—he had no family to sue.
Stella Carter's family sued and also used the corrupt Mr. Leipold and afterward also consulted the malpractice law firm of Andres-Andres, prior to me, knowing that Mr. Leipold was obviously paid by Sun to ignore the injunction and all the witness testimony he failed to obtain in my case. My malpractice attorneys valued the original case at $1 million and said the corruption was obvious. Mr. Leipold was found to have a sister (Barbara Ownings) who had a trust fund that owned Southern California real estate that Mr. Leipold's immediate family lived in while she lived in Tallamazoo, Michigan. Hmmm.
Why all this corruption? So Sun could go on to merge and make the CEO a very wealthy man, regardless of the danger to the elderly. Richard K. Matros, Shame on you!
[Written by Deborah S. Calvert]