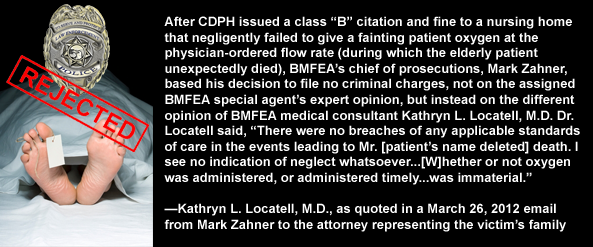 Calif. Dept. of Justice's Bureau of Medi-Cal Fraud and Elder Abuse failed to prosecute Sun Healthcare nursing home deaths, says victim's daughter
Newport Beach, California, resident Deborah S. Calvert has sent Elder Abuse Exposed.com her personal story and primary source documents detailing the elder abuse and death reports she filed on behalf of her mother, Evelyn Calvert, and other neglected nursing home residents with prosecutors in the California attorney general's Bureau of Medi-Cal Fraud and Elder Abuse (BMFEA).
In 2003, Deborah Calvert sent elder abuse reports to and spoke on the telephone with Claude W. Vanderwold, who was a deputy attorney general in the BMFEA's office in Sacramento, California. But it is important to note that Mark Zahner has been BMFEA's chief of prosecutions in Sacramento from at least sometime in 2003 to the present, 2013.
So this means that 10 years after Deborah Calvert first contacted Mark Zahner's BMFEA office in Sacramento, critics are still saying that Attorney General Kamala Harris' BMFEA and Mark Zahner are failing to file criminal elder abuse charges against the principal malefactors. These are the profit-obsessed nursing home owners who are directly responsible for understaffing and the widespread practice of patient records falsification, which predictably lead to systemic and chronic nursing home abuse.
In Deborah Calvert's elder abuse victim story and reports, which she filed with Jacqueline Lincer, a district manager at the California Department of Public Health's (CDPH) Licensing and Certification Program in Orange County, California, Ms. Calvert made the following allegations (all quoted allegations are Deborah Calvert's):
Deborah Calvert and many other family members of elderly residents in Sunbridge Care and Rehabilitation—a Newport Beach, California, nursing home operated by Sun Healthcare—complained to BMFEA in Sacramento that "Sun had violated its 2001 California state injunction with both understaffing and broken equipment that was killing patients."
"Five patients died 2002–2003 from the neglect and direct fault of Sun Healthcare Group, Inc., at Sunbridge Newport located at 1555 Superior Avenue in Newport Beach, CA 92662."
"Rick Matros, Sun's CEO, had 'killed my mother' in retaliation."
When Deborah Calvert picked up a June 26, 2006, medical review and declaration regarding Evelyn Calvert's death prepared by the former medical director of Sunbridge Care and Rehabilitation, Scott Stoney, M.D., Dr. Stoney told Deborah Calvert, "Those bastards killed your mother."
Prosecutors in BMFEA's Sacramento office "refuse[d] to consider Sun's violation of its injunction that killed my mother when settling with Sun Healthcare in September 2005" because of "corruption."
"Sun was under an injunction dated 2001 not to understaff or have known broken equipment after killing patients in Burlingame, Calif. in 2000. Yet the Dept. of Justice refused to prosecute Sun for this 2003 injustice. Why? Corruption."
"The [California] Department of Health issued a citation for the death of the man in October in room 2-B from equipment failure, yet the BMFEA ignored this in their settlement. The Department of Health also issued a citation for Richard Laga's death from gangrene."
Deborah Calvert's full elder abuse victim story and selected primary source documents are available on Elder Abuse Exposed.com's "Victims of Law Enforcement" webpage, which is dedicated to victims of California law enforcement agencies and prosecutors.
---
What do you think? Please share your thoughts below this article!

If you take a moment of your valuable time to leave a relevant, non-spam comment below, we will reward you by telling Google and other search engines to crawl and follow your outgoing hyperlink pointing to your website.