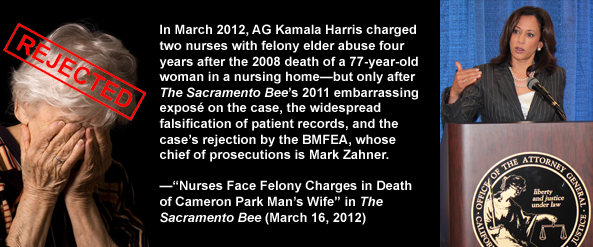 Elder abuse victim's daughter complained to Sen. Dianne Feinstein about alleged misconduct by Calif. DOJ's Bureau of Medi-Cal Fraud and Elder Abuse
An elder abuse victim's daughter in California has shared with Elder Abuse Exposed.com the email response from U.S. Senator Dianne Feinstein (D-Calif.) to a complaint about alleged official misconduct by Attorney General Kamala Harris' Bureau of Medi-Cal Fraud and Elder Abuse (BMFEA).
Newport Beach, California, resident Deborah S. Calvert contacted Senator Feinstein's office earlier this year, just after Elder Abuse Exposed.com posted on its website Ms. Calvert's allegation that BMFEA prosecutors in Sacramento failed to prosecute, and even condoned, flagrant elder abuse leading to several deaths in a Sun Healthcare nursing home. Ms. Calvert wanted to inform Senator Feinstein about the futility of the elder abuse and death reports Ms. Calvert had filed with BMFEA concerning her mother, Evelyn Calvert, and other neglected nursing home residents in a Sun Healthcare nursing home in Newport Beach, California. According to Ms. Calvert, because of corruption, BMFEA's prosecutors, including former deputy attorney general Claude W. Vanderwold and Deputy Attorney General Mark Zahner, refused to enforce "a 2001 California state injunction [regarding Sun Healthcare's] understaffing and broken equipment that was killing patients."
In Deborah Calvert's elder abuse victim story and reports, Ms. Calvert made the following disturbing allegations (all quoted allegations are Deborah Calvert's):
Deborah Calvert and many other family members of elderly residents in Sunbridge Care and Rehabilitation—a Newport Beach, California, nursing home operated by Sun Healthcare—complained to BMFEA in Sacramento that "Sun had violated its 2001 California state injunction with both understaffing and broken equipment that was killing patients."
"Five patients died 2002–2003 from the neglect and direct fault of Sun Healthcare Group, Inc., at Sunbridge Newport located at 1555 Superior Avenue in Newport Beach, CA 92662."
"Rick Matros, Sun's CEO, had 'killed my mother' in retaliation."
When Deborah Calvert picked up a June 26, 2006, medical review and declaration regarding Evelyn Calvert's death prepared by the former medical director of Sunbridge Care and Rehabilitation, Scott Stoney, M.D., Dr. Stoney told Deborah Calvert, "Those bastards killed your mother."
Prosecutors in BMFEA's Sacramento office "refuse[d] to consider Sun's violation of its injunction that killed my mother when settling with Sun Healthcare in September 2005" because of "corruption."
"Sun was under an injunction dated 2001 not to understaff or have known broken equipment after killing patients in Burlingame, Calif. in 2000. Yet the Dept. of Justice refused to prosecute Sun for this 2003 injustice. Why? Corruption."
"The [California] Department of Health issued a citation for the death of the man in October in room 2-B from equipment failure, yet the BMFEA ignored this in their settlement. The Department of Health also issued a citation for Richard Laga's death from gangrene."
Deborah Calvert's full elder abuse victim story and selected primary source documents are available on Elder Abuse Exposed.com's "Victims of Law Enforcement" webpage, which is dedicated to victims of California law enforcement agencies and prosecutors.
Senator Feinstein advised complainant of alleged BMFEA misconduct to contact Governor Brown's staff
Sen. Dianne Feinstein's staff should be commended for taking the time to respond to Deborah Calvert's plea for help regarding her disappointing experience with BMFEA prosecutors Claude Vanderwold and Mark Zahner in Sacramento because Elder Abuse Exposed.com knows that some California and U.S. representatives do not respond at all to complaints about government's failure to prosecute elder abuse. But Senator Feinstein's staff is probably not aware of a fact that Elder Abuse Exposed.com readers know quite well: Governor Jerry Brown has a dismal record as a prosecutor of elder abuse in California nursing homes. So although Senator Feinstein's staff's recommendation to Deborah Calvert to contact Govenor Brown's office was well intentioned and reasonable, asking Jerry Brown to provide elder abuse protection is like asking the fox to guard the henhouse.
Senator Feinstein's March 7, 2013 email to Ms. Calvert is as follows:
From: senator@feinstein.senate.gov
To: debdeb2080@hotmail.com
Subject: U.S. Senator Dianne Feinstein responding to your message
Date: Thu, 7 Mar 2013 13:09:34 -0500
March 7, 2013
Miss Deborah Calvert
800 Cliff Drive
Newport Beach, California 92663
Dear Miss Calvert:
Thank you for taking the time to write to me. I am sorry to hear about your difficulties with State of California Bureau of Medi-Cal Fraud & Elder Abuse. I appreciate your trust in me and the opportunity to help in this matter. Unfortunately, many issues within the State of California are beyond my jurisdiction as a United States Senator.
I want to be sure that your concern reaches someone who can help you; therefore, I suggest you contact the office of Governor Jerry Brown. His office is set up to help in matters within the jurisdiction of the Governor of the State of California, and I have been assured that his staff will work hard to help you in your endeavors. You can start by calling his Constituent Affairs office directly at (916) 445-2841. You may also submit an e-mail with an outline of the matter through the Governor's website, http://gov.ca.gov/m_contact.php, or mail a signed letter to his office:
Office of Governor Jerry Brown
Attn: Constituent Affairs
State Capitol, First Floor
Sacramento, California 95814
Again, thank you for your letter and the opportunity to serve you. Please do write to me again if I can be of any assistance to you on a federal government issue.
Sincerely,
Dianne Feinstein
United States Senator
DF:kmc
Governor Brown has turned his back on the weak, vulnerable, and elderly in California nursing homes
As governor, Jerry Brown has an embarrassing record of declining to fight for the rights of neglected and abused nursing home residents. For instance, on September 27, 2012, Governor Brown vetoed Assembly Bill 217, which would have prohibited deadly secondhand smoke inside nursing homes and other long-term health care facilities in California and "eliminate[d] dangerous secondhand tobacco smoke exposure to protect non-smoking workers, non-facility workers and patients." By vetoing AB 217, Governor Brown continued his disregard of the rights of the weak, vulnerable, and elderly in nursing homes by ignoring the evidence-based conclusions in the 2006 The Health Consequences of Involuntary Exposure to Tobacco Smoke: A Report of the Surgeon General, by the U.S. Department of Health and Human Services, Surgeon General Richard Carmona, 22 national experts, and 40 peer reviewers and scientists.
Jerry Brown's nursing home abuse record as former attorney general is also disturbing. California Department of Justice (DOJ) data show that when he was California attorney general (2007–2011), Jerry Brown undermined and nullified budget increases to the DOJ's BMFEA. Despite increased funding to BMFEA, "civil and criminal elder abuse prosecutions fell about one-third," according to California Watch's August 21, 2010 "Prosecutions of Elder Abuse Cases Decline under Jerry Brown." As attorney general, Brown dismissed many criminal elder abuse cases that elder abuse experts and nursing home advocacy groups said Brown should have prosecuted to deter further abuse.
At the same time, Jerry Brown also sharply reduced the number of surprise inspections at abusive nursing homes by a team of medical professionals from the BMFEA's Operation Guardians program. These unannounced inspections, says the DOJ, "help protect and improve the quality of care for California's elder and dependent adult residents residing in California's 1,340 skilled nursing facilities" and "identif[y] instances of abuse or neglect for further investigation and possible criminal or civil prosecution by the Bureau of Medi-Cal Fraud and Elder Abuse." According to the DOJ, Jerry Brown's predecessor, former California attorney general Bill Lockyer (D), who established the Operation Guardians program in 2000 and was a much tougher prosecutor of elder abuse than Brown, was responsible for more than 90 Operation Guardians surprise inspections just in 2006. In contrast, under Brown, there were only three Operation Guardians inspections at California nursing homes in 2010.
DOJ's BMFEA medical consultant, elder abuse expert Dr. Kathryn Locatell said, "I think it's ageism. . . . We don't value old people."
As California's immediate past attorney general and current governor, Jerry Brown has continued to exemplify what Kathryn Locatell, M.D., DOJ's medical consultant and elder abuse expert for BMFEA's Operation Guardians program, said about discrimination against the elderly in an interview for the December 21, 2011 "Gone without a Case: Suspicious Elder Deaths Rarely Investigated," by ProPublica, Frontline, and NPR. "We're where child abuse was 30 years ago," said Dr. Locatell. "I think it's ageism—I think it boils down to that one word. We don't value old people. We don't want to think about ourselves getting old."
Former AG Bill Lockyer did not turn his back on elderly in nursing homes, as Gov. Brown and AG Kamala Harris have
Compassionate Californians, such as Bill Lockyer, who do value old people and treat our weakest members with respect and dignity must send a strong message to Governor Brown and Attorney General Kamala Harris. We must tell them that we will not tolerate California government's turning its back on some of our weakest members. We must tell them that it is a public disgrace to betray members of what journalist Tom Brokaw called the "Greatest Generation," our vulnerable and aging parents and grandparents who emerged from the depths of the Great Depression and then selflessly and heroically saved the world from the tyranny of the Nazis during World War II. And we must tell them that if we do not speak out on behalf of our weakest members, then who will speak for us when we are weak and vulnerable?
Pastor Martin Niemöller, German anti-Nazi theologian, Lutheran pastor, and prisoner in Sachsenhausen and Dachau concentration camps from 1937 to 1945 said:
First they came for the socialists, and I didn't speak out because I wasn't a socialist. Then they came for the trade unionists, and I didn't speak out because I wasn't a trade unionist. Then they came for the Jews, and I didn't speak out because I was not a Jew. Then they came for me, and there was no one left to speak for me.
California's members of Congress have clout to prompt U.S. DOJ to investigate "seriously corrupted" nursing home enforcement system
A growing number of elder abuse victims and their family members in California, such as Deborah Calvert, feel they have been victimized a second time by what U.S. Senator Charles Grassley (R-Iowa) has called a "seriously corrupted" and "broken" nursing home inspection and complaint investigation process. These elder abuse victims also feel double victimized by a failed and biased elder abuse response and criminal justice system in which there is no criminal accountability for perpetrators of elder abuse in nursing homes. (See the April 2010 report Victimized Twice: Abuse of Nursing Home Residents, No Criminal Accountability for Perpetrators, by Disability Rights California (DRC), the federally mandated protection and advocacy agency for the State of California.)
Although the primary job of California's congressional delegation is federal legislation, members of Congress also have the responsibility to know that both the state and federal nursing home enforcement systems in California are weak and ineffective. They need to know that the California attorney general's Bureau of Medi-Cal Fraud and Elder Abuse, California Department of Public Health's (CDPH) Licensing and Certification Program, and U.S. Department of Health and Human Services' (DHHS) Centers for Medicare and Medicaid Services (CMS) have all betrayed some of the most vulnerable members of our society living in nursing homes, as Senator Grassley, Disability Rights California, and the U.S. Government Accountability Office (GAO) have revealed.
Because California's corrupted nursing home enforcement agencies cannot investigate themselves, it is appropriate for congressional representatives from California to get involved. They can use their considerable influence, for example, by writing letters to the U.S. Department of Justice's Offices of the United States Attorneys or Federal Bureau of Investigation (FBI) to prompt an investigation of Deborah Calvert's and other soon-to-be-published allegations of corruption by the California attorney general's BMFEA.
---
What do you think? Please share your thoughts below this article!

If you take a moment of your valuable time to leave a relevant, non-spam comment below, we will reward you by telling Google and other search engines to crawl and follow your outgoing hyperlink pointing to your website.